Wizkid declares Rap (Hip-Hop) dead and boring.
Nigeria's biggest Afrobeats exporter, Ayodeji Balogun popularly known as Wizkid reveals he doesn't listen to rap music because the music genre is "dead and boring".
Speaking in a recent interview with 10 magazine (a British luxury quarterly magazine published in London, UK), Big Wiz said: "Afrobeats is the new pop. I sold two million copies in America off of one song! Even some American artists don't have a diamond record. If I'm being honest, I don't listen to any other genre of music anymore.
I don't listen to rap – that shit is boring to me. It's dead now, it's tired. These guys do the same shit, rap on the same beats and the same flows."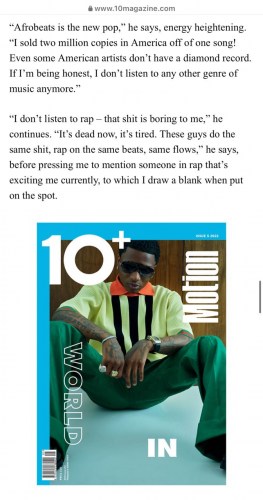 View this post on Instagram