CKay mmadu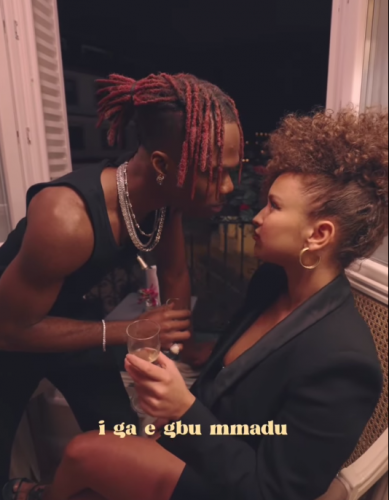 CKay Mmadu... Emo Afrobeat artiste, rolls out a new song with the title- "Mmadu" which is off his newly released debut album – 'Sad Romance' and the Amapino infused 'WATAWI'.
The debut album of global sensation CKay sees the singer, songwriter and producer crystalise his expressive iteration of Afrobeats.
Listen the track title, "mmadu" and also Enjoy the official visualiser below;
Listen To Sad Romance album HERE!
Mmadu Lyrics
Verse 1:
I want you I need you woah woah
I see through your see-through woah woah
You dey drive me crazy like chauffeur
When i see you i want to do ya
Pre-chorus:
Now now
Girl i want you now now
Make i roll my loud loud
Make i glide pon the ting
Make i slide pon the ting
I go make you pass out
Girl na you go first tap out
When i roll my loud loud
Make i glide pon the ting
Make i slide pon the ting
Chorus:
Omalicha i ga e gbu mmadu
I ga e gbu mmadu
N'abania i ga ma mmadu ma mmadu
I go chop am like salad like salad
Mhmm you too bad you too bad
Hmm hmm
You too bad
Hmm hmm
Too bad
Hmm hmm
Burst my head oh ah
Hmm hmm
Verse 2:
You and i
Baby you and i
We were meant to be girl
Ooh our love no go die e no go die
Look inna my eyes
When i'm inside
Tell me it's mine
Hold on tight
Pre-chorus:
Now now
Girl i want you now now
Make i roll my loud loud
Make i glide pon the ting
Make i slide pon the ting
I go make you pass out
Girl na you go first tap out
Make i smoke my loud loud
I go slide my tin
Inside your tin
Chorus:
Omalicha i ga e gbu mmadu
I ga e gbu mmadu
N'abania i ga ma mmadu ma mmadu
I go chop am like salad salad
Because you too bad you too bad
Hmm hmm
You too bad
Hmm hmm
Too bad
Hmm hmm
Burst my head oh ah
Hmm hmm