Eve Esin, a Nollywood actress, and others have questioned late artist Mohbad's father's support for Naira Marley's assault on his son.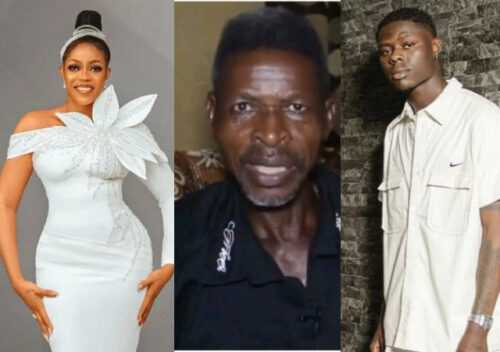 It is no longer news that the deceased's former boss, Naira Marley, and his label mistreated and attacked him.
In a now-viral video, his father defended Naira Marley's conduct, claiming that Naira Marley was only attempting to correct him, but his son refused to listen.
He described Naira Marley as a compassionate person who wanted the best for his son and wanted to show Mohbad who was superior.
"Naira Marley didn't kill my son Mohbad. All Naira Marley and Sam Larry were doing was just to ruffle Mohbad up a little so that he would know that Naira Marley was his Oga and he will 'dobale' for him and be humble and listen. I don't think Naira Marley would ever go as far as killing my son".
Netizens Reactions…
Eve Esin wrote, "What a father
@Emini Kabex wrote, "May our parents not be the weapon fashioned against us
@The Food Networking wrote, "Definitely not his father. This one na bastard daddy.
@Ekwutousi wrote, "At this point we are Mohbad's family
@Sweezy wrote, "Sure say na him papa be this sef
@ Kokun Foundation wrote, "Erase this man My people. Please all your support should go to Mohbad's wife and his son that's the best we can give Mohbad right now. Soonest he would get justice
The post "What a father" – Eve Esin, Others Question Mohbad's Father for Supporting Naira Marley appeared first on tooXclusive.
source
https://tooxclusive.com/what-a-father-eve-esin-others-question-mohbads-father-for-supporting-naira-marley/